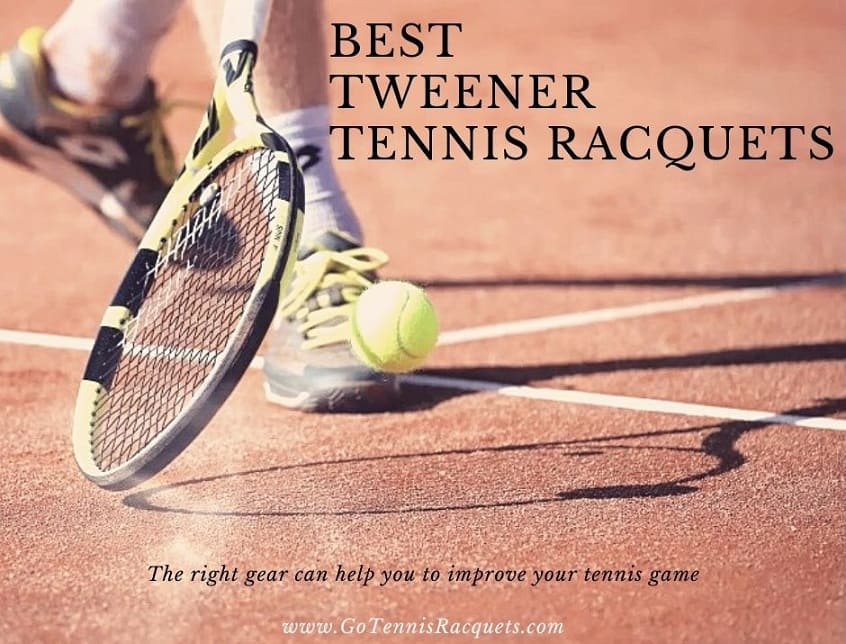 You could not shift from a beginner racquet to a professional instantly. What I want to imply is that you need something in between to improve your overall game steadily.
In this aspect, there's nothing better than to invest in the best tweener tennis racquet.
Why?
Because a tweener racquet is weighty enough. Not only that, but it has a midplus head size of around 100 sq. inches. The stiffness and power it provides are also balanced at a medium level.
Before going into the details of Mid Plus (MP) size tennis racquets, you should also learn about Mid and Oversize tennis racquets too, so you can decide which size suits your game.
Mid Head Size: Racquet head size from 85-97 sq. in / 550-625 sq. cm comes under Midsize head tennis racquets.
Midplus Head Size: Racquet head size from 98-105 sq. in / 630-680 sq. cm comes under Mid Plus head tennis racquets.
Oversize Head: Racquet head size from 106-135 sq. in / 685-870 sq. cm comes under Oversize head tennis racquets.
All in all, you can also look into the other section which is for traditional players from intermediate to advance. I've compiled a list of top-rated tweener racquets that will help you make an easy decision for sure.
Top 6 Best Tweener Tennis Racquets
Wilson Hyper Hammer 5.3 tops the list for offering enough power, stiffness, control, and stability to an intermediate player. Starting with some basics, its powerful frame enables a player to improve compact swings and shots at the same time.
I really loved the racquet's overall power, thanks to its oversized head. Wilson has focused on increasing the weight of the head to ensure maximum balance and stability. Besides, a heavy head also adds to improved momentum.
That said, intermediate players enjoy balance and versatility while playing different shots. Wilson's Tweener Tennis Racquet also offers an open string pattern, thus ensuring more power and spin. You could not expect these qualities from a beginner level racquet.
As per my experience, I've used this racquet multiple times for practice sessions. Most notably, I've tried different spin shots on it and so far it hasn't disappointed me. Long story short, it must be your go-to racquet especially if you want to upgrade your gameplay on a professional level.
Head Size: 110 in² / 710cm²
Length: 27.5 in / 70 cm
Strung Weight: 9oz / 255 g
Stiffness: 70
Beam width: 28mm/25mm/25mm
Composition: 15% Hyper Carbon & 85% Graphite
String Pattern:16 Mains / 20 Crosses
Racquet colors: Black & White with Gold highlights
---
2. Wilson Clash 100 – Best Tennis Racquet for Control
Struggling with additional control while playing rebound tennis shots? There's nothing better than getting the brand new Wilson Clash 100 for extra balance and stability.
For starters, this tennis racquet symbolizes extra power, control, and string through its oversize head balance. Moreover, the extremely generous sweet spot ensures vertical and horizontal strokes with maximum control.
To be honest, I got intrigued with the latest FreeFlex technology that the Wilson Clash 100 got. It enables the best tweener racquet to induce spin like never before. Intermediate players could get complete advantage from this feature of the racquet for sure.
The frame, in addition, measures 108 sq. inches and it's loaded with StableSmart technology. Utilizing this feature, the frame adds extra stability as you swing the racquet for rebounds or smashes.
Last but not least, you should not forget that the racquet comes unstrung. However, Wilson does offer a range of color varieties on strings that you could choose as per your will and wish.
Head Size: 100 in² / 645cm²
Length: 27in / 68.5 cm
Strung Weight: 11.oz / 312 g
Unstrung: 10.4 oz
Stiffness: 55
Beam width: 24.5mm
Composition: High Performance Carbon Fiber
String Pattern:16 Mains / 19 Crosses
Racquet colors: black, grey, red
Customizable: Yes
---
3. HEAD Ti.S6 – Best Tweener Racquet Under $100
HEAD Ti.S6 is a real gamechanger for beginners who want to improve their gameplay. The best tweener tennis racquet plays a pivotal role in improving overhead and groundstrokes. On top of that, it's light in weight and is oversized so it helps induce more power in a smash or a rebound shot.
Starting with some specifics, HEAD tweener tennis racquet comes with a 115 sq. inches head size. To keep it in context, Wilson Clash 100 only had a 108 sq. inches head size. The sweet spot gets enhanced this way and helps intermediate players to play shots with accuracy.
Moreover, the racquet comes prestrung from the brand. The optimal string tension provided by manufacturer helps the players to make some aesthetic spin and aggressive shots without any hassle.
The story doesn't end here.
Made with titanium and graphite, HEAD tweener racquet is lightweight. It barely weighs 300 grams. This lightweight frame allows the intermediate players to improve their strokes overall. Less weight also means more control and stability with low arm fatigue.
Head: 115 (in²) / 742 (cm²)
Weight: 8.9 oz / 252 g
Unstrung Weight: 8.3 oz / 235 g
Length: 27.5 in / 70 cm
Beam: 28.5 mm
String Pattern: 16×19 (16 Mains / 19 Crosses)
Composition: Graphite/Titanium Composite
Grip Type: Head Cushion Grip
Flex: 76
Swing weight: 318
Tension: 57-66 Pounds
---
4. BABOLAT Pure Drive – Best Tennis Racquet for Intermediate Players
Frustrated with using beginner racquets and want to up your game effectively? Babolat offers its Pure Drive Tennis Racquet that has all the options you need to become a top-notch player.
First thing first, one of the best tweener tennis racquets has got a visco-elastic frame construction. The utilization of this material helps add softness and comfort to the play. You could thus enjoy playing some accurate overhead strokes with this racquet.
Furthermore, the reason I keep Babolat Pure Drive in high regard is its capability to add extra spin and power. The special arrangement of strings and grommets in the racquet helps improve the spin and power in every stroke. Hence, the smashes become difficult for the opponent to tackle.
I specifically liked the versatility of Pure Drive. I mean, I experimented with a variety of shots ranging from quick smashes to rebound shots and spin shots. It didn't cause any problem and was accurate enough.
Head: 100 (in²) / 645 (cm²)
Weight: 11.2oz / 318g
Unstrung Weight: 9.5 oz or 270 g
String Pattern: 16×19 (16 Mains / 19 Crosses)
Length: 27in / 68.58cm
Beam: 23mm / 26mm / 23mm
Flex: 71
Composition: Graphite
Racquet Colors: Blue
Grip Type: Babolat Syntec Pro
---
Microgel radical from Head is a tennis racquet that meets the demands of beginners who are about to enter their professional tennis career.
Backed by Microgel and graphite composite, the racquet ensures comfort and control while you play different strokes with it.
Starting with some major features, microgel induced on the head of the racquet not only absorbs the impact but helps improve the overall comfort at the same time. It creates a solid feel and enables the player to play some aggressive shots.
More than that, this racquet keeps accuracy and precision in high regard. In this aspect, the sweet spot is generous enough to let the intermediate players enhance their accuracy.
All in all, the tweener racquet supports players who want a plush feeling while playing different shots. Besides, it's quite affordable, so that's yet another plus point.
Head: 98 sq in or 632.26 sq cm
Strung Weight: 11oz or 312g
Length: 27 in or 68.58 cm
Beam: 22mm
Composition: Microgel / Graphite
Racquet Colors: Orange, Grey & Black
String Pattern: 18×20 (Mains x Crosses)
Grip Type: Head Hydrosrob Pro
---
6. HEAD MxG 1 – Best Tweener Racquet for Spin
Finally, we'll end up our review section with the brand new HEAD MxG 1 tennis racquet. It's more of a Spin-Friendly Racquet and helps beginner players to control their spin shots with ease and convenience.
For starters, we've got a 98 sq. inch head size with a broad sweet spot. Along with that, the spin-friendly string tension allows the players to get the best out of their strokes. With this racquet, you'll leave your opponent stunned and that's for sure.
More than that, the racquet's stick being made up of Graphene reduces vibration on impact and improves the overall feel at the same time. In this aspect, Head MxG1 provides a comfortable yet powerful gameplay experience.
At last, I loved the durability and sturdiness of the racquet. I've seen many intermediate players use it roughly, and they've been using it for a year.
Head: 98 sq in or 632 sq cm
Strung Weight: 11.1oz or 315 g
Unstrung Weight: 10.6 oz or 300g
Length: 27 in or 68.58 cm
Beam: 22mm
Flex: 68
Composition: Graphene Touch/Graphite
Racquet Colors: Black/Silver
String Pattern: 16×19 (Mains x Crosses)
---
Conclusion on Tweener Racquets
Choosing the best tweener tennis racquet will not only enable you to improve your game. It also helps you develop as a player and allows you to reach newer heights.
All the top tennis racquets I've discussed above support beginner gameplay. More than that, they are also suitable for immediate players to add new varieties in their strokes.
So, choose the racquet you like as per your budget and your game level, or simply go for Wilson Hyper Hammer 5.3 as it's undoubtedly the best racquet you'd get at an affordable rate.
Leave your queries regarding the main topic and I'll respond to them as soon as possible.