Best Pick
Super Oversize
Cover
HEAD Ti.S6 Strung Tennis Racquet (4-3/8), Strung
ProKennex Ki Q+30 (260g) Tennis Racquet (4-5/8)
Babolat Unisex_Adult Pure Drive 110 U Cover Racket, Blue (Blue), 2
Facing difficulty improving your serve, groundstrokes, and power shots? You, my friend, need to look into the best oversize tennis racquets.
What good comes with an oversize tennis racquet?
For starters, an oversized frame offers more stability and is generally more forgiving compared to midsized racquets. Other than that, oversized frames offer a larger sweet spot and power.
Therefore, you could enjoy playing tennis with improved stability and less tiredness.
Coming right to the point, I've got my hands on some of the best tennis racquets with bigger head sizes. I decided to review them in detail and share their benefits with you guys.
Have a look at the top-rated oversize tennis racquets
6 Best Oversize Racquets for Larger Sweetspot & Power
1. Head MxG 7 – Super Oversize Tennis Racquet
Head MXG7 with its 116 sq. inch frame is undoubtedly the most powerful tennis racquet we've got in 2022. The brand itself introduces it with one word, "Power". I must say that it does improve the overall power and aids extra control as well.
For players, the frame being too generous offers a large enough sweet spot. Not only that but the heavy head balance improves the additional power and allows players to hit the ball with full zest and zeal.
Moreover, power under control is what you could expect from MXG 7. The best tennis racquet brand uses the Graphene Touch and MxG technology to improve weight distribution with immense stability.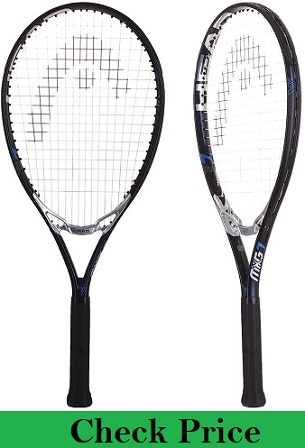 All in all, you could expect this oversized racquet to increase your swinging speed due to its lightweight shape. Furthermore, the power, spin, and control are well up to the mark. That's one of the reasons I love playing with Head MXG 7 more often.
Head Size: 115 sq in or 741.93 sq cm
Strung Weight: 9.9 oz or 281 g
Unstrung Weight: 9.2 ounces
Length: 27.6 in or 70.1 cm
Beam: 28/29/26 mm
Stiffness: 69
Composition: Graphene Touch/Graphite
Racquet Colors: Black/Silver
String Pattern: 16×18 (Mains x Crosses)
---
2. Head Ti.S6 – Best Oversize Tennis Racquet Under $100
Extremely low on budget and still want an oversized tennis racquet for improved gameplay? I'd want you to consider the Head Titanium TI.S6 racquet.
Being backed by titanium plus graphite construction, the frame has a 115 sq. inches size. Hence, it enhances forgiveness and helps beginners to maintain their gameplay.
Along with that, you'll like the lightweight shape and body of one of the best oversize tennis racquets. Not only does it enhance the swinging speed, but you can also improve your rebound shots with this racquet.
In a nutshell, the best affordable tennis racquet is suitable for beginners, intermediate players, and even seniors. The price is way too low. So, you could also purchase it for practice sessions.
Head: 115 (in²) / 742 (cm²)
Weight: 8.9 oz / 252 g
Unstrung Weight: 8.3 oz / 235 g
Length: 27.5 in / 70 cm
Beam: 28.5 mm
String Pattern: 16×19 (16 Mains / 19 Crosses)
Composition: Graphite/Titanium Composite
Grip Type: Head Cushion Grip
Flex: 76
Swing weight: 318
Tension: 57-66 Pounds
---
3. Prokennex Ki Q+ 30 – Best Super Oversize Tennis Racquet
PROKENNEX oversize tennis racquet comes with a 119 sq. inches frame with a 16×19 string pattern. All in all, you could expect it to improve your spin while you are trying to make groundstrokes or serves.
Starting with some basics, the best oversize tennis racquet offers optimal balance and stability with added power. The heavy head frame enables players to keep their opponents busy in rebound shots.
Furthermore, I've seen many senior players contented with the ProKennex racquet. One of them said that "This racquet offers a superb weight and that's the reason I could swing with all my capability."
In the end, you'll surely love the superior feel that this racquet offers, thanks to its vibration dampening technology. The racquet, in all its essence, is best meant for seniors and intermediate players.
Head: 119 in² / 767 cm²
Unstrung Weight: 9.1 oz / 260 g
Strung Weight: 9.8 oz / 278 g
Length: 27.5 in / 70 cm
Beam: 28 mm
String Pattern: 16×19 (16 Mains / 19 Crosses)
Composition: High Modulus Graphite/Spiral Tech Carbon
Grip Type: ProKennex Synthetic
Stiffness: 72
Color: Black
---
4. Volkl V-Feel V1 OS – Comfortable Oversize Tennis Racquet
Ever heard of Volkl? Well, I get it. Most tennis players only know about Wilson, Babolat, and Head as big tennis brands. However, it doesn't mean that they should underestimate the unpopular companies. Volkl, for instance, with its V-feel racquet is an epitome of power with comfort.
To state some of its features, the 110 sq. inches frame along with a 16×19 string pattern not only improves forgiveness but also adds stability and control to the shots you make.
Other than that, you'll surely enjoy the feeling while playing with this racquet as it uses the special Vcell technology for that purpose.
Finally, V1 OS uses special EVA material in its frame to absorb most of the impact. Hence, all the rebound shots you make will feel lighter and comfortable enough.
Head: 110 in² / 710 cm²
Weight: 11 oz / 312 g
Length: 27.6 in / 70.1 cm
Beam: 26mm / 23mm / 29mm
Composition: VCell/Graphite
Racquet Colors: Black/Nay Blue
String Pattern: 16×19 (16 Mains / 19 Crosses)
Stiffness:68
---
5. Wilson Pro Staff XL 110 – Best Cheap Oversize Tennis Racquet
The Signature Federer Pro Staff XL caters to the needs of players who struggle with volleys, baseline shots, and smash serves. One of the best oversize tennis racquets offers a generous sweet spot as it has a 110 sq. inches frame.
Not only that, Wilson Pro Staff does offer optimal power, thanks to its 11 oz. weight. The swinging speed also improves as you try to make aesthetic volleys and groundstrokes.
I liked the smashing ability of this Racket. It utilizes the shift of weight directly towards the frame. So, players could yield more power every time they hit the ball.
Along with other features, Pro Staff uses the Arch technology to maintain its focus on stability while delivering power. That's one of the reasons your shots become accurate and precise enough. Your opponent won't stand a chance against you when you play with the Pro Staff XL 110.
Last but not least, Pro Staff XL 110 oversize racquet comes pre-strung. To top that, a racquet bag is also included. Plus, the availability of Wilson balls adds a cherry on the top as you could enjoy practicing your shots as soon as you get the racquet.
Head: 110 sq. in. / 710 sq cm
Strung Weight: 11.5 oz / 326 g
Length: 27.25 in. / 69.2 cm
Beam: 24.5 mm
Composition: Aluminium
Color: Red
String Pattern: 16×19 (Mains x Crosses)
Grip: Cushion Aire Perforated grip
---
6. Babolat Pure Drive 110 – Best Oversize Racquet for Intermediate Players
Pure Drive 110 from Babolat offers a balance between spin, control, and power. The 100 sq. inches durable frame offers a generous sweet spot to keep the intermediate players away from inaccurate shots.
Other than that, one of the best oversize tennis racquets weighs only around 11.2 ounces. It, therefore, help the players to increase their swinging speed. More than that, the power also improves.
Secondly, I am a big fan of the extra spin that Babolat Pure Drive offers. The 4 point head balance ensures some aesthetic underspin when you are trying volleys or groundstrokes.
Furthermore, the SWX Pure Feel technology used allows the players to enjoy a comfortable feel while swinging the racquet. Adding to that, it helps them to make penetrating shots that could easily puzzle the opponent.
To make things clear, Pure Drive 110 offers a perfect balance between power, spin, and control. I'd definitely suggest it to players who find it difficult to play baseline shots.
Head: 110 sq. in. / 710 sq cm
Strung Weight: 9.6 oz / 272 g
Length: 27.6 in. / 70.1 cm
Beam: 24/26.5/23.5 mm
Composition: Graphite
Stiffness: 69
Racquet Colors: Blue
String Pattern: 16×19 (Mains x Crosses)
---
Conclusion
Oversize tennis racquets possess many advantages. A few of them include a larger sweet spot, improved stability, balance, and precision.
With that said, if you are struggling with a midsized racquet, then you must go all in for an oversize racquet. Believe me, it will improve your gameplay and will furnish you further.
The discussion I've done above is to help you find out a perfect racquet as per your needs and budget. So, go through them one by one and make a final decision accordingly.
If you are still confused, then simply get the Wilson Triad XP5 and I assure you that you won't regret your decision.