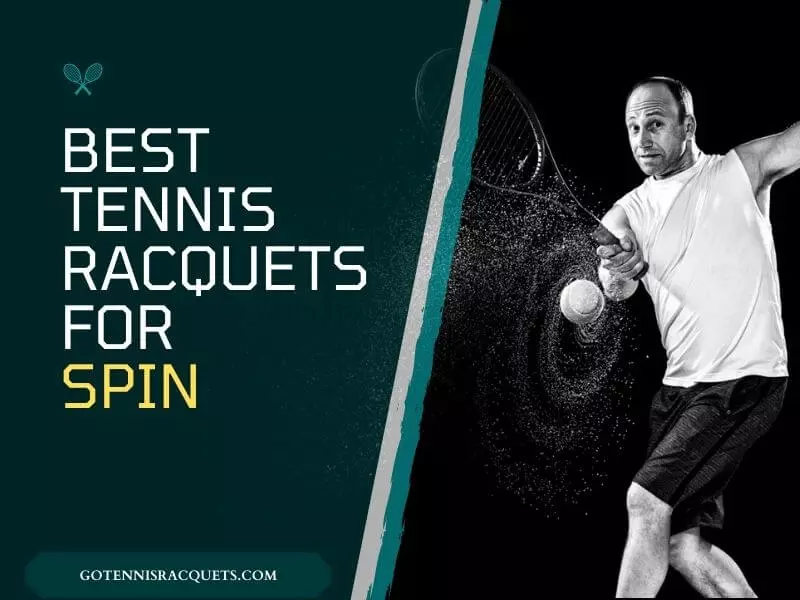 Want more Spin? you need a suitable tennis racquet which produces enough spin. select an open string pattern and adjust the right tension which improves your spin shots.
Whenever I hear the word, "Spin" someone automatically comes to my mind. You got that right. I'm talking about Rafael Nadal, a.k.a, "The Clay Court King."
What's so amazing about Rafa is that he generates immense spin while playing groundstrokes.
All in all, if you do want to become the next Rafael Nadal, then you, my friend, would need to invest your money in getting the best tennis racquets for a spin.
Talking of which, I've already compiled a list of top-rated spin generating racquets available in 2022.
Have a look at them and make your decision accordingly.
List of Top 7 Tennis Racquets are Best for Spin
1. Babolat Pure Aero – Best Overall Spin Tennis Racquet 2021
It's a no brainer that when a player like Rafael Nadal chooses Babolat Pure Aero, it automatically becomes the best tennis racquet. With a durable and sturdy frame, stiff head, narrow throat, and a special string arrangement, the racquet generates a lot of spin without any hassle.
For starters, Pure Aero features the Aeromodular beam technology to improve the racquet's head speed. It also reduces the drag speed and offers a low swing interface for creating maximum spin.
Other than that, You'd be surprised to know that the racquet offers a friendly and firm feel when you middle the ball. I mean, the Cortex Pure Feel technology is there to take care of unwanted vibrations.
Adding to all other features, The 16×19 string pattern is what makes the racquet an ideal choice for a spin. The special grommet arrangement also responds to creating extensive spin to lure the opponents perfectly.
Head: 100 (in²) / 645 (cm²)
UnStrung Weight: 10.6oz / 300 g
String Pattern: 16×19 (16 Mains / 19 Crosses)
Length: 27in / 68.58cm
Beam: 23mm / 26mm / 23mm
Flex: 71
Composition: Carbon Fiber
Endorsed by Rafael Nadal
---
If you are an aggressive player and you love playing powerful strokes with added spin, then Prince Phantom Pro 93P should intrigue you. The reliable tennis racquet comes with Graphite construction, which offers due sturdiness and stability.
Apart from that, It comes with the TeXtreme technology for added stability, spin, and power. The narrow beam, on the other hand, 14×18 open string pattern helps the player to generate more spin with power.
Furthermore, I loved the classic feel that the racquet offered when I tried it on the court. Phantom Pro offers spin with extreme stability and balance. That's something amazing for the advanced players.
Plus, I'd also want to clarify that the racquet suits the needs of modern aggressive players. It has all the qualities of becoming an ideal spin generating racquet. Get it and you'll already have an upper hand over your opponent.
Lorenzo, a friend of mine describes this racquet as "A Perfect Balance between dynamic power and spin." Really makes one interested enough to get it as soon as possible.
Head Size: 93 sq. in. / 600 sq. cm.
Length: 27 in / 68.58 cm
Strung Weight: 12.1 oz. / 343 g.
UnStrung Weight: 11.5 oz. / 325 g.
String Pattern: 14×18 (14 Mains / 18 Crosses)
Beam: 20.5mm / 19.5mm / 16.5mm
Flex: 62
Composition: Textreme/Twaron/Graphite
---
The latest Head Graphene 360+ is one such racquet that improves the spinning skill of a player and takes it to a whole new level. This versatile racquet comes in with a sleek and smooth finish.
Moreover, the Mid plus head size along with a wide throat enables it to generate pace, spin, and power simultaneously.
Starting with some basics, One of the best tennis racquets for spin has got a special arrangement of strings. The innovative string bed allows players to play spin-aided ground strokes and backhand shots.
Adding to that, While testing it out, I loved the way I was able to make some furious drop shots from the baseline. I, for one, noticed the 16×20 string pattern as it helped me produce extra spin.
Head Graphene 360+ also comes with a heavy and sturdy frame. The fusion of a heavy head with a narrow throat generates exceptional power and spin as usual.
Head: 100 sq. in. / 645 sq cm
Length: 27 in / 68.58 cm
Strung Weight: 10.9 oz / 310 g
Unstrung Weight: 10.4 oz. / 295 g
String Pattern: 16×20 (16 Mains x 20 Crosses)
Beam Width: 22 mm
Composition: Graphene 360+ & Graphite
Flex: 61
---
4. Yonex EZONE 100 Tennis Racquet – Best for Advance Jr. Players
On 4th spot, we have the Yonex EZONE 100 available. This specific spin racquet is meant for the players who want to add spin to their strokes with comfort and stability. Yeah, you heard that right. One of the top-rated tennis racquets ensures complete dominance and helps aggressive players to play the shots they want with diligence.
To get started with, EZONE 100 is all about versatility, The spin it offers is well up to the mark. Plus, the extra power and control allow the players to leave their opponents in complete awe.
On the other hand, The high-quality tennis racquet also features the M40X technology in its head, which makes it stiff enough. The result? More power and spin with added flexibility.
Finally, Yonex claims of offering the largest sweet spot in its latest EZONE 100 among the Ezone series. The claim is 100% right as I've friends who've confirmed this statement with frequent usage.
Head: 100 sq. in. / 645 sq cm
Length: 27 in / 69 cm
Unstrung Weight: 10.6 oz / 300 g
Strung Weight: 11.2 oz / 318 g
String Pattern: 16×19 (16 Mains / 19 Crosses)
Beam: 23.5mm / 26mm / 22mm
Color: Deep Blue
Composition: HM Graphite / M40X with VDM HM Graphite / M40X / VDM
Flex: 68
---
5. Wilson Blade 104 v7 Tennis Racquet – Serena Williams Choice
Imagine the power, spin, and flexibility when a player like Serena Williams prefers Wilson Blade 104 v7 over anything. Notably, the racquet has got a sleek finish. I loved the green color variations. Besides, the extra spin and a larger sweet spot are some of the highlights you could expect from it.
First thing first, One of the best spin racquets with its FeelFlex technology not only adds stability and flexibility but also improves the overall spin generating capability of a tennis player.
Secondly, The lightweight shape offers an improved swinging speed. Therefore, players could enhance the power on some basic ground strokes along with added spin.
Last but not least, Serena Williams, an aggressive female tennis player recommends Wilson Blade 104 v7. She specifically utilizes the 16×19 string pattern of the racquet to produce extra spin followed by precision and accuracy.
Head: 104 sq in / 671 sq cm
Weight: 11.4 oz / 323 g
Unstrung Weight: 306g / 10.8 oz
String Pattern: 16×19 (Mains x Crosses)
Length: 28 in / 71.1 cm
Beam: 22 / 22 / 22 mm
Composition: Braided Graphite, Basalt
Player Type Avid Competitor
Grip Type: Wilson Sublime
---
6. Babolat Drive 115 – Best Oversized Racquet for Spin
The Drive 115 with an oversized head ensures maximum power, control, and stability along with more than enough spin.
Intermediate players who want to keep an edge over their opponents could try this racquet for immense dominance.
One of the best tennis racquets for spin comes with a 115 sq. inches head size.
Besides, the 16×19 string arrangement pattern offers more spin generation compared to other racquets.
The Woofer String technology is widely appreciated by intermediate players as it helps them to play spin and drop shots without compromising on the overall power.
Head: 115 sq. in. / 742 sq cm
Strung Weight: 9.1 oz / 258 g
Unstrung Weight: 240 g
Length: 27.6 in / 70.1 cm
String Pattern: 16×20 (Mains x Crosses)
Beam: 25/28/24 mm
Stiffness: 69
Racquet Colors: Blue/White/Black
---
7. Yonex VCORE 95 – Denis Shapovalov's Favorite Racquet
I'd wind up the review section with Yonex VCORE 95. Denis uses it more often while he's playing some top-seed players.
As per his remarks, "The racquet generates enough spin and is stable enough to keep me going in a long rally."
That said,
VCORE 95 with its thin beam and a smaller head size surely impacts the gameplay.
But, it does produce enough spin to help you avoid imminent smashes from the opponent.
More notably, the Aero Trench grommets are there to reduce the wind and drag speed.
Hence, players could get more time to twist their wrists for playing a perfect spin shot.
Head: 95 (in²) / 612.9 (cm²)
Length: 27 in / 68.6 cm
Unstrung Weight: 10.9 oz / 312 g
Strung Weight: 11.4 oz / 326 g
String Pattern: 16×20 (16 Mains / 20 Crosses)
Beam: 21mm / 21mm / 20mm
Flex: 65
Composition: H.M. Graphite, Nanometric XT, Namd
---
Our Verdict
Generating spin like Rafael Nadal requires effort, sheer practice, and hard work. You cannot just change your tennis racquets and expect them to generate stunning spin all of a sudden.
With that, I must say that if you choose one of the racquets I've reviewed, you'd surely improve your spinning skill with time.
So, either make your own choice or go for Babolat Pure Aero as it's undoubtedly the best tennis racquet for spin available in 2022.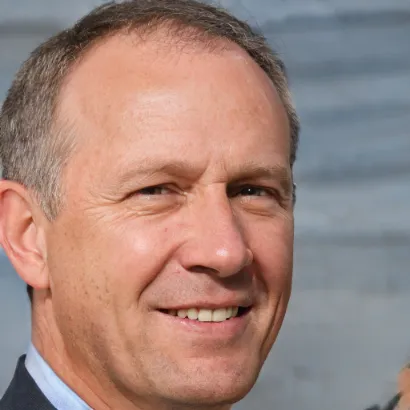 As someone who enjoys both playing tennis and writing, I strive to embody a combination of skillful technique and unwavering perseverance on the court while simultaneously offering valuable observations and reflections to my audience through my articles. My overarching objective is to motivate and encourage others on their individual paths towards tennis success.