Tennis is one of those sports that welcomes players from both genders to enjoy this sport's beauty. However, despite this gender equality, the content discussing the best tennis racket for females is shockingly low.
You might be one of those girls who watched the greatest WTA tennis players at a young age and built an interest in women's tennis.
Not all grown up with the dream of playing tennis, seeing famous players swinging the best tennis racquets, which makes you buy or get with the same features, and finding all top-rated racquets for girls are now on a single page, which makes your hunt easier.
Few reviewers say there are not many suitable tennis racquets that meet the requirement of the female version of the game, is that true?
Of course not! The diversity out there in the market will probably blow you away. That is if you know where to look.
Best Tennis Racquets for Females
If you are a beginner or intermediate level (3.5) female player, and you are also searching for one of the best tennis racquet, then put your hunt aside and choose which girlish tennis racquet suits your personality and your game.
Before you set out to purchase a quality tennis racquet designed just for women, you must ask yourself some questions.
First and foremost, an inquiry related to your budget. How much are you willing to spend on a tennis racquet?
Frugality is founded on the principle that all riches have limits, now you can move on to more pressing matters.
Are you aiming to play at a national or international level?
In that case, go ahead and purchase a high-end tennis racquet. However, if the idea is to have some fun only, we guess a decent one would do.
Whatever the game we are trying to win, the key to success is hard work, which beats talent.
Reviews of Top-Rated Tennis Racquets for Female
We feel obliged to introduce you to some absolute beauties with high comfort from the tennis racquets markets at this point in the discussion. Without further ado, let us have a look at some of the best tennis racquets for women.
1. Babolat Pure Drive 300g – Tennis Racquet for Power & Spin
If there is one racquet that meets the modern-day tennis game requirements that females have to play, to be competitive enough, it is this one.
Pure Drive tennis racquet versions have been showered with praise from those who have played with this beauty. Power, spin, and speed are the three prime factors to look at in a tennis racquet apart from control, and this excellent racquet has scored well in all these departments.
If you are a player who likes to show a bit of aggression, here is a racquet that will help you be aggressive with the volleys. You do not have to concern much about power or spin.
The racquet generates enough of those to deceive your opponent's female player. For those ladies, who like to serve flat, this is just the kind of racquet they need.
Control is one thing that the manufacturers can work on in the days to come. Apart from a few issues related to this racquet's stability and feel, this is the best tennis racquet for female players and every pro must try it.
Head: 100 sq in or 645 sq cm
Unstrung Weight: 10.6 oz or 300g
Length: 27 in or 69 cm
Beam: 23-26-23 mm
Composition: Graphite
Technology: Cortex Pure Feel, FSI Power, GT Technology, Elliptic Beam
Strung Weight: 11.2 oz / 318 gm
String Pattern: 16X19 (Mains x Crosses)
Grip: Babolat Syntec Pro
---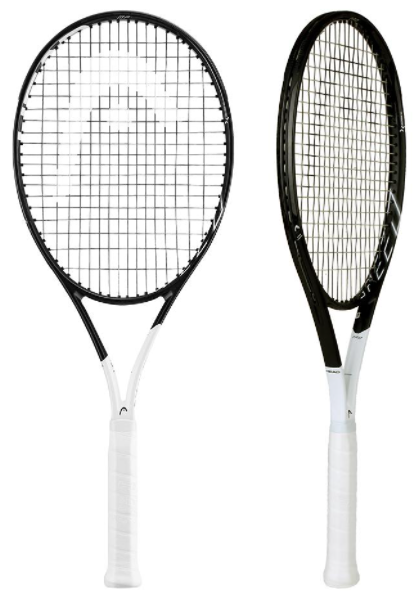 However, a high-end tennis racquet will cost you some extra bucks, so be prepared about that mentally. Ah, but it is worth all the money, it is! If the previously discussed racquets had control and stability issues, this beast is the very opposite of those makes.
Its ball feedback is superior, as is its stability and the control it offers. The wise use of Graphene adds more to the flexibility of impact, something for which the earlier models were famous.
We said this earlier, and modern-day tennis is all about speed, spin, and mixing it with control. If you are a girl who is at the beginner level of this beautiful sport, we advise you to switch your game to this version soon.
For that, you will need a racquet like this as well. There is enough speed and spin on offer when one talks about HEAD Graphene 360 Speed.
Head: 100 sq in or 645 sq cm
Weight: 11.5 oz or 326g
Length: 27 in or 68.58 cm
Beam: 23-23-23 mm
Composition: Graphene 360/Graphite
Racquet Colors: Black/White
String Pattern: 18×20 (Mains x Crosses)
Swing Speed: Fast
Grip Type: Head Hydrosrob Pro
---
3. Wilson Blade 104 V7 – Best Tennis Racquet for Female Beginners
Top-rated WTA player Serena Williams was all praises for the Wilson Blade SW104 is a more significant review than the one we can give. However, you still need to know why this racquet is such a hot property in the world of female tennis racquets.
Fits, the power makes this make so popular among professional and advanced level players. We warn you that if you do not have the skills to wield the power of this beast, you might end up hitting more often than not.
Apart from the increased power, the racquet features an extended length as well. This feature allows the player to swing this bat heavily, and to fair use as well.  That's why we have included this shinny piece in our best tennis racquets for females.
Head: 104 sq in / 671 sq cm
Weight: 11.4 oz / 323g
String Pattern: 16×19 (Mains x Crosses)
Unstrung Weight: 306g / 10.8 oz
Length: 28 in / 71.1 cm
Beam: 22-22-22 mm
Composition: Braided Graphite, Basalt
Player Type Avid Competitor
Grip Type: Wilson Sublime
---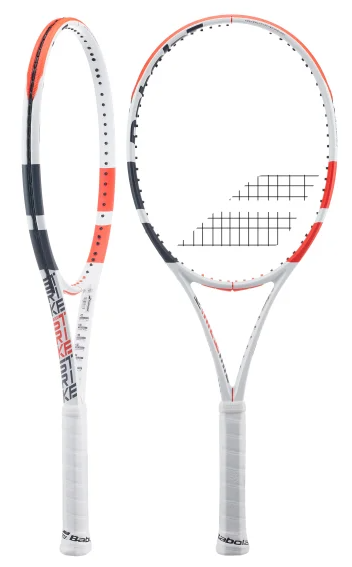 The Pure Strike is a top-rated tennis racquets series; its third generation is class personified. The latest update has focused on alleviating the issues concerning feel and playability. The result is a racquet that has made most tennis-loving girls go crazy for this Babolat beauty.
A new feature of Pure Strike 100 racquets is the C2 pure feel technology. The idea behind introducing this technology was to improve the comfort level associated with this make. The class of the old generations is still the same. You get unbelievable maneuverability, control, and spin access with the Babolat Pure Strike 100 tennis racquets.
It is the stable frame of this racquet more than anything else, which will allow you to hit volleys with supreme confidence. The frame is light in weight as well, which allows you to swing heavily and quickly.
The only downside that is associated with these racquets is the somewhat decreased degree of power. You will have to put in a bit more power than you would typically have to if you opt for the Pure Strike racquets.
Head: 100 sq in / 646 sq cm
Weight: 11.1 oz / 315g
Length: 27 in / 68.58 cm
String Pattern: 16×19 (Mains x Crosses)
Beam: 21-23-21 mm
Composition: Graphite
Unstrung weight: 10.6 oz / 300 g
Grip Type: Babolat Syntec Team
---
Senston 27-inch racquet is specially designed for a beginner or recreational teenage girls. Its 27 in length with a head size of 100 square inches makes it the real deal so that your little one will have enough sweet spot to play on the baselines.
Besides this, it features a grip size of 4 1/4 inches which makes its handling easier.
The worth mentioning point about Senston is, it features a special one-piece molded technology because of which the tennis racquet will deliver shots with high intensity.
Also, it becomes the most durable tennis. Not only this, Senston tennis racquets are made up of carbon alloy material that makes them too light in weight. The unstrung weight of this amazing kid's tennis is 260-280gm.
In order to enhance the power and spin of your little champions, it features an open string pattern. Furthermore, the handgrip has some special shock absorbers installed that dampen the vibration and brings a better battling feel. Also, with too little vibration, it will protect your wrist from injury.
Head: 96-100 inch
Weight: 260-280g
Length: 27 in / 69 cm
Grip Size: 4 1/4 inch
Colors Combinations: Blue Black, Blue White, Red Black & Red White
---
Conclusion
Although we have shared the list of best tennis racquets for women. however, things may not go according to your desire, but there are plenty of things a young female tennis player needs to know before calling herself a pro. In spite of that everything here, we discuss is related to the racquets.
Anyhow, a player must identify their style of play at the very early stage of their career.
Are you one of those players who enjoy playing the baseline game?
Are you a fan of active tennis, meaning you love rushing to the net?
What is your style?
You need to figure that out first and then choose a racquet accordingly. Your style of play and your shot range is also essential determinants to consider in pursuing the best tennis racquets for petite female.
Although by now, you should be able to tell all about different kinds of tennis racquets. However, a little recap cannot hurt. Well, ladies, there are the power racquets, then there are the control racquets and of course, those which make a ball spin to a deceptive degree.
You will need to spend some time browsing for their more defined and specific characteristics. However, as we said it somewhere earlier in the discussion, your budget will ultimately decide which kind of racquet you buy.