Power and control are the two crucial ingredients in the recipe for a perfect stick. Tennis racquets for control are supposed to give maximum control on the ball so that players who are aggressively hitting wild shots may have accurate precision over the ball.
After extensive research, we have found out some best tennis racquets for control which will give you maximum control over the game when you are on the court.
Besides this, a brief and concise buying guide will help you to differentiate control racquets from the other racquets.
So let's get started!
Best Tennis Racquets for Control Reviews
If you are in search of some powerful and easily accelerated stick, then Wilson clash 100 could be the right choice for you.
With 11 ounces strung weight and 100 sq. inches of head size, this tennis racquet offers outstanding control over a typical modern player's racquet.
It features FreeFlex and StableSmart technology that delivers outstanding flexibility without compromising the crisp and solid feel of the racquet.
Wilson clash is the ideal racquet for under 4.5 ntrp (National Tennis Rating Program) level players who want to have extra control on the ball. One of the reasons is its beam. Yes, it has a 24.5mm beam width which adds more control.
Since it's a headlight tennis racquet, therefore, it offers more control when you are smashing the tennis ball. learn more about in Wilson clash 100 review.
Head Size: 100 in² / 645cm²
Length: 27in / 68.5 cm
Strung Weight: 11.oz / 312 g
Unstrung: 10.4 oz
Beam width: 24.5mm
String Pattern:16 Mains / 19 Crosses
Racquet colors: black, grey, red
Customizable: Yes
---
Who doesn't know about HEAD?
House of quality and durable racquets that gives outstanding performance in every match. HEAD microgel Radical OS is a great example of control and comfort.
It features an oversized head of 107 square inches with a large sweet spot which means more chances of backhand and forehand shots. Its strung weight is about 11.1 oz and slim beam which makes it an exemplary control-oriented tennis racquet.
It features a unique microgel technology that is combined with graphite composite all the way around the head of the racquet. This technology deforms and compresses upon ball impact.
Therefore, it uniformly distributes the impact load around the entire frame.
As stated by the manufacturer HEAD microGel gives a rock-solid feel and improved control along with extra stability.
It's a 2 pts headlight balance that performs great when it comes to controlling. It is best suited for intermediate level and elder players.
Head Size: 107 in² / 690 cm²
Length: 27in / 68.5 cm
Strung Weight: 11.1 oz / 315 g
Beam width: 21 mm Straight Beam
String Pattern:18 Mains / 19 Crosses
Racquet colors: Orange & White
---
3. Wilson Ultra Tour Tennis Racquet – Best for Groundstrokes
The next one on our list of best tennis racquets for control is from the house of Wilson, which is a popular name in tennis.
Ultra tour is the new addition to the family of Wilson Ultra. It features a closed string pattern, a thin beam along with headlight balance, and buttery flex. All these features contribute to the formation of a traditional player's racquet.
It is a lightweight tennis racquet that weighs only 11.4 ounces strung. Its 325 swing weight and 63 stiffness rating give it an excellent feel for extraordinary precision.
Wilson ultra tour features a head size of 97 square inches along with 6 points headlight balance. This way player can maneuver it with great power and control.
Wilson ultra tour tennis racquet is the best choice for you if you are in search of a control-oriented frame.
Ultra tour racquet is perfectly designed for intermediate to advanced level players.
Head: 97 (in²) / 626 (cm²)
Length: 27in / 69cm
Weight: 11.4 oz / 323g
String Pattern: 18×20 (18 Mains / 20 Crosses)
Beam: 23mm / 26.5mm /22.5mm
Composition: Carbon Fiber/Countervail
Racquet Colors: Blue & Black
---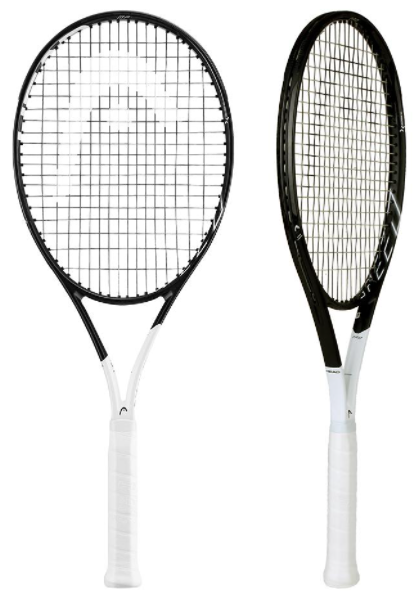 HEAD Graphene 360 speed pro tennis racquet is designed especially for intermediate to advanced ball strikers. It is the racquet that has been endorsed by Novak Djokovic.
Graphene 360-speed pro is a combination of speed and control. The 18 x 20 closed pattern and smaller spacing between mains and crosses bring forth more control.
Speed pro racquet series of HEAD features Graphene 360+ technology that gives greater stability and power to its users while playing.
Besides this, it features a head size of 100sq. inch with a strung weight of 11.5 oz. HEAD Graphene 360 speed pro is a 6 pts head light tennis racquet that is quite easier to maneuver. The rewards in this bat for its players are good to control, decent spin, and excellent stability.
Head: 100 sq in or 645 sq cm
Weight: 11.5 oz or 326g
Length: 27 in or 68.58 cm
Beam: 23-23-23 mm
Composition: Graphene 360/Graphite
Racquet Colors: Black/White
String Pattern: 18×20 (Mains x Crosses)
Grip Type: Head Hydrosrob Pro
---
Volkl tennis racquets are known for giving a superior level of comfort along with the good command. It's the name that strikes the mind first when you want an arm friendly and comfortable tennis racquet.
The reason is, Volkl has introduced many innovative and unique technologies in their racquet that not only make it comfortable but also provide amazing control on the ball. That's the reason we have included it in our list of best tennis racquet for control.
V Sense V1 Pro is equipped with some shock-absorbing technologies that are V-Feel, VCell, VSensor, and REVA. All these technologies improvised the feel of the racquet.
V1 racquet is an amazing blend of plenty of power and control along with the spin.
Featuring a strung weight of 11.3 ounces along with 99.5 sq inches of head size offers maximum maneuverability with excellent control. The large sweet spot makes it an ideal tennis racquet for the volley.
Volk VSense V1 pro is perfect for skilled players who need to have maximum stability and power in their game.
Head: 99.5 (in²) / 642 (cm²)
Weight: 11.3 oz / 320 g
Length: 27 in / 69 cm
Beam: 23mm / 20mm / 23mm
Composition: Graphite/C3 Material
Racquet Colors: Black with few green lines
String Pattern: 16×19 (16 Mains / 19 Crosses)
---
Best Tennis Racquets for Control Buying Guide
You can't find a suitable tennis racquet without giving a peek at the buying guide. Some players want a power-oriented tennis racquet whereas some want to have a control-oriented tennis racquet.
Control oriented tennis racquets are often recommended by professional players when a player is frequently over hitting an aggressive shot.
In a market that is saturated with different types of tennis racquets, it becomes hard to choose a control-oriented tennis racquet. After unbiased and extensive research, we have jotted down some important factors that you need to consider while buying a control tennis racquet.
WEIGHT OF CONTROL RACQUETS
Control racquets are comparatively heavier than the other tennis racquet. Their weight ranges from 11-15 ounces. Control is vice versa to power.
HEADSIZE OF CONTROL RACQUETS
Midsize head size is often recommended for control racquets. Head size less than 100 square inches is considered ideal for a control-oriented racquet.
BEAM OF CONTROL RACQUET
To have amazing control on the ball, control-oriented tennis racquets have thinner beams. The width of beams ranges from 18 mm to 22 mm.
BALANCE OF CONTROL RACQUET
Headlight or evenly balanced tennis racquets are thought to give excellent control over the ball. Such tennis racquets also give maximum maneuverability.
STRING PATTERN OF CONTROL RACQUET
Control oriented tennis racquets must have to have a dense and tightly string pattern.
Our Verdict
All the above-reviewed tennis racquets are ideal for those players who thirst for control during the game. There are some tennis racquets which have been endorsed by famous tennis players. They are the best indeed.
But what we will recommend you to have greater control of your game is Wilson Clash 100 tennis racquet. This is one of the best control-oriented as it features an open string pattern of 16 x 19 with 11 ounces / 312 gm weight for ideal handling. This gives improved control along with a rock-solid feel and stability.