Possibly the greatest Greek athlete of all time, Stefanos Tsitsipas has quickly ascended to be among the top of professional men's tennis. He has single-handedly revived Greece's presence in the top rankings and he has been a mainstay at the top for a few years now. To learn more about Stefanos Tsitsipas Net worth and his journey to the top and other related information, keep on reading.
Stefanos Tsitsipas Bio
Born in Athens, Greece on 12th August 1998, Stefanos had the makings of a tennis player since birth. His mother, Julia Apostoli was a professional tennis player, and his father, Apostolos Tsitsipas was a tennis coach, At just 9 years old, the then-child Stefanos would decide for himself what his life work would be when in the middle of the night, he said to his father: "Dad, I have to tell you something: I want to become a tennis player, I like the competition, I like the challenge." And the rest was history. He first started training at the Tennis Club Glyfada under his father at the age of six. Since 2015 however, he has begun training at the Patrick Mouratogolou Academy, half the time in France and the rest in Greece.
| | |
| --- | --- |
| Name | Stefanos Tsitsipas |
| Age | 24 |
| Date of Birth | 12 August 1998 Athens, Greece |
| Weight | 90kg (198 lbs) |
| Height | 6ft 4 in (193 cm) |
| Residency | Monte Carlo, Monaco and Vouliagmeni, Greece |
| Nationality | Greek |
| Marital Status | Not married |
| Spouse | None |
| Siblings | Petros Tsitsipas, Pavlos Tsitsipas, Elisavet Tsitsipas |
Stefanos Tsitsipas Net Worth
Stefanos has been a mainstay in the top rankings for a few years now and he has been very successful both on and off the court. Stefanos Tsitsipas net worth is estimated to be $20million. His earning gradually increases year by year and besides this sponsors money and endorsements making his net worth strong. If we talk about current year, only in 2022 he earned more than $5 million.
Stefanos Tsitsipas Earning
The no. 1 Greek player has amassed an impressive $21,759,629 in prize money earnings throughout his career. In 2022, Stefanos made $5,479,442, a marked improvement from the last 2 years but still lacking behind this his most successful season of 2019. The Greek made $6,928,930 in 2016, one of the highest amounts from that year. A year-by-year prize money earnings chart for Stefanos is given below.
Year
Prize money earnings
2016
$33,270
2017
$306,584
2018
$2,585,669
2019
$6,928,930
2020
$2,106,451
2021
$3,572,154
2022
$5,479,442
Total: $21,759,629
Stefanos Tsitsipas Career Stats
In 2013, at 14 years old, Stefanos joined the ITF Junior circuit. His debut at a high-level tournament by the end of the season in 2014 when he participated in the Abierto Juvenil Mexicano. Of his 4 junior Grand Slam performances in 2015, his best performance was reaching the quarter-finals at the Australian Open. This same year, he played his first Challengers Title tournament at Mohammedia and win his first Futures title which he win 11 more challengers title till 2017.
Stefanos Tsitsipas 1st Doubles Grand Slam
The 2016 season gave him his big break when Stefanos reached at least the semifinals in all 8 of the tournaments he appeared in, including the 4 Grand Slams. He even achieved victory at the Wimbledon Open for Doubles, his only junior Grand Slam victory. He would go professional the same year. Stefanos would reach back-to-back challenger finals at Mohammedia and Casablanca, boosting his rank into the 200s.
He made his first ATP main draw in 2017 and Grand Slam tournament at the Rotterdam and French Open respectively. Tsitsipas won his first Challenger title at Genova and defeated a top 10 tennis player for the first time at the Shanghai Masters. The season ended with his ranking then in the top 100.
Stefanos Tsitsipas 1st ATP Title
In 2018 at the ATP 500 tournament, Stefanos beat 3 top 20 players. He followed up this performance at the Elliot Open, attained victory over no.8. Of his Grand Slam and Masters tournament appearances that year, his most impactful participation was at the Canadian Open where he became the youngest player to record four top ten wins in a single event. Tsitsipas defeat no.8, no.10, no.3, and no.6. in succession, boosted his rank into the top 15. He continued his sweep that season, winning himself his first ATP title at the Stockholm Open as well as the Next Gen ATP Finals, became the first Greek to win an ATP title.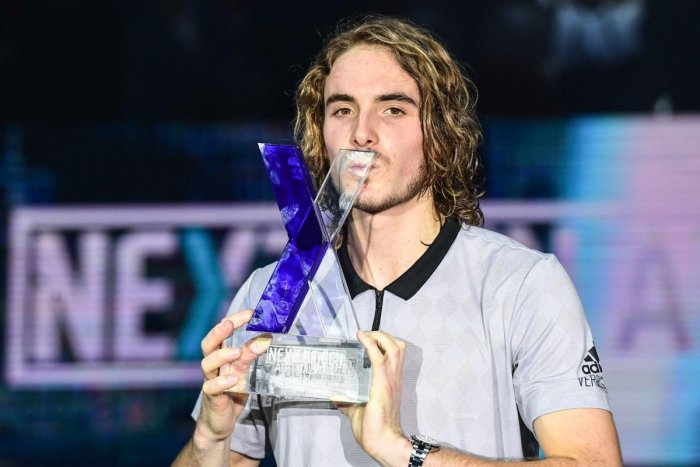 By the end of the 2019 Washington Open, Tsitsipas defeat world no.3, became the all-time highest-ranked Greek player with his world no.12 ranking. His second career singles title was at the 13 Open followed by his first clay court win at the Estoril Open. His best win of 2019 however was his first ATP Finals, became the youngest winner since 2001, ending the season as no.6.
Tsitsipas 1st Maters 1000 title
After winning no Big titles in 2020, Tsitsipas redeemed himself in April of 2021 by winning his first Masters 1000 title at the Monte-Carlo Masters. He also have his best French Open performance of his career in 2021, reached in finals and in August of that year, he achieved his career-high ranking of no.3.
Tsitsipas defends his Monte Carlos Masters 2022 title, winning his second 1000 masters title. In total, he made 5 Masters semi-finals, of which he was runner-up on 3 occasions. At the Grand Slams, his best performance was showcased at the Australian Open, becoming a semi-finalist for the 3rd time. He was runner-up at the Stockholm Open, losing to Holger Rune in the finals. Stefanos did qualify for the Nitto ATP Finals but was eliminated during the Round Robin stage.
Stefanos Tsitsipas ATP Titles
The Greek tennis player has accumulated 9 ATP singles titles. Of these titles, his greatest achievement has been winning both the Next Gen ATP Finals and the ATP Finals in consecutive years, 2 titles that got him named the 2019 Greek Male Athlete of the Year. Winning the back-to-back Finals is an Open Era Stefanos holds alone. He also became the youngest winner of the ATP Finals championship in eighteen years. Another record the Greek holds regarding the ATP Finals is that he is one of 7 players in ATP history, who won the Final on their first-ever appearance.
He is one of only 4 tennis players to defend their Masters 1000 title, a feat he accomplished this year after winning at the Monte Carlo Masters for the second consecutive year. Though Stefanos is currently ranked No.5, his ranking peaked in 2015 when he rose to no.3, becoming the highest-ranking Greek tennis player in history alongside Maria Sakkari, a close family friend of his. He was also a former No.1 junior and the first Greek male in the Open Era, to win a junior Grand Slam title at the 2016 Wimbledon Championships in doubles. Unfortunately he couldn't win any Grand Slam so far.
Stefanos Tsitsipas Sponsorship and Brand Endorsements
Stefanos Tsitsipas has been endorsed by Adidas for clothing and footwear. Since 2015 Tsitsipas is sponsored by Adidas for his apparel. After contract expired with New Balance, he has been sponsored by Adidas for footwear as well. Tsitsipas heas been attached with New Balance for their athletic footwear in 2019. In 2019, Tsitsipas signed a new deal with American clothing and equipment manufacturer New Balance.
Wilson, a famous racquet company, endorses racquets to Tsitsipas. His other sponsorship contracts include Rolex, Tsitsipas became an ambassador for Rolex in 2018. At 20 years of age, Tsitsipas was one of the youngest sponsors of the Geneva-based luxury watchmaker. Besides all of these, the antiperspirants and deodorant company Rexona also endorses Tsitsipas. Thes endorsements makes Stefanos Tsitsipas net worth is pretty good.
Stefanos Tsitsipas Racquet
Stefanos endorses the Wilson Blade 98 racquet, using a modified version as his racquet of choice. Some specs include its 18 x 20 string pattern and  98 in² head size. Tsitsipas made sure his racquet has the colors of the Greek national flag painted on it.
| | |
| --- | --- |
| Head Size | 98 in² (632 cm²) |
| Length | 27 in (68.58 cm) |
| Weight | 11.4 oz / 323 g |
| Balance | 4 point Head Light |
| Swing Weight | 321 |
| String Pattern | 18 mains x 20 crosses |
| Color | Green/Metallic Silver |
| Grip Style | Tapered Grip |
| Composition | Braided Graphite & Basalt |
| Stiffness | 62 |
Stefanos Tsitsipas Relationships and Children
The current no.5 is in a long-distance relationship with Greek marketing strategist, Theodora Petalas. The couple started dating in 2019 and met for the first time in New York. Theodora's work requires her to be in London but the distance hasn't weakened their relationship. Before dating Theodora, Stefanos had been suspected of dating his long-time childhood friend and professional tennis player, Maria Sakkari. Currently, Stefanos and Theodora have no children.
FAQs:
How many titles has Stefanos Tsitsipas won?
He has won 9 ATP titles in his career.
Is Stefanos Tsitsipas single?
No, he has been in a long-distance relationship with Theodora Petalas since 2019.
What is Stefanos Tsitspas' Net Worth?
His Net worth is estimated to be around $20mil.
What languages does Stefanos Tsitsipas speak?
He can speak English, Greek, and Russian.